GVI HONORED TO ACCOMPANY DONG HA CITY, QUANG TRI PROVINCE, USTDA AND ACTIONABLE STRATEGIES TO IMPLEMENT SMART CITY PROJECT
Nowadays, building smart cities is becoming an indispensable trend. The explosive application of information technology in all aspects of social life around the world has strongly influenced the organization as well as management of the State and formed distinct trends. Vietnam is not an exception. In Quang Tri province, the orientation and planning for smart city is necessary for the long-term, sustainable construction and development of the province. Therefore, after promulgating the Proposal for building Smart City Project in Quang Tri province for the 2018-2023 period, with vision to 2030, activities to find sponsors were immediately implemented. GVI Joint Stock Company is honored to accompany Dong Ha City, Quang Tri province to find funding from USTDA for Smart City project in Dong Ha city – a promising project in the future and bring many development opportunities to the province, as well as help to modernize and improve the lives of the people in Quang Tri.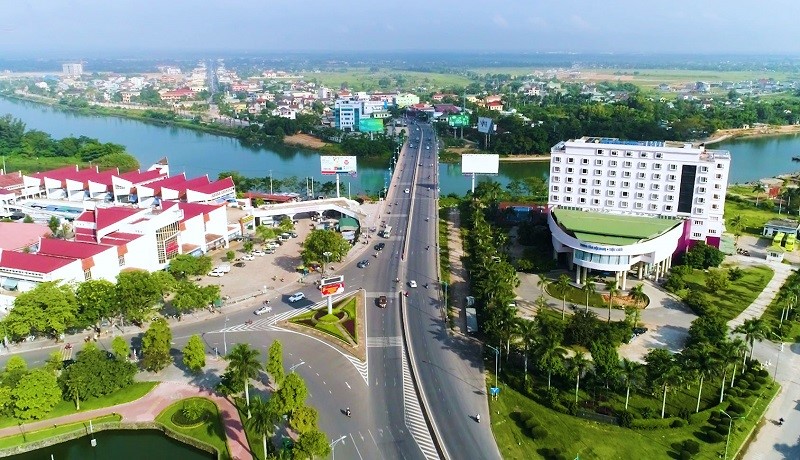 A side of Dong Ha City, Quang Tri Province (Source: Internet)
The Dong Ha Smart City project for the 2021-2025 period, with vision to 2030, has been approved by the People's Committee of Dong Ha in 2021. The Dong Ha Smart City project has 9 components as follows:
Building a Smart City Management Center.

eGovernment.

Smart City Management.

Smart City Management.

Smart Traffic.

Smart Electronic Billboard Management.

Smart Natural Resource-Environment Management.

Smart Agriculture.

Smart services in other categories.
GVI Joint Stock Company has found funding from USTDA for two components: 'Smart urban surveillance system using AI imaging' and 'Smart lighting management system and traffic signals along streets'. Stakeholders for these two components include:
Dong Ha's authority includes: People's Committee of Dong Ha, Agency for Investment and Tourism Promotion, Quang Tri Information & Communication Department, The Office of Dong Ha People's Council and People's Committee, The City Culture and Information Department.
GVI Joint Stock Company specializes in consulting and investing in energy projects, infrastructures, real estate, industrial zones, securities, electrical materials and equipment, import/export. GVI is capable of connecting foreign partners with businesses and authorities in Vietnam, and supporting projects receiving foreign fundings.
The U.S. Trade and Development Agency (USTDA) is an independent agency of the United States government, specializing in funding for feasible studies and technical assistance for infrastructure projects, including Smart City projects. USTDA has had more than 10 years of accompanying Vietnamese organizations and businesses in sponsoring development projects, especially energy projects.
Actionable Strategies is a consulting firm established in New York in 2008, focused on strategy, operations and organization, and enabling technologies. This company tracks record of successful projects in emerging markets in Smart City domains. Actionable Strategies's consultants have engineering and technical experience, led innovative organizations, planned for scalability, and managed growth. This firm has also worked with USTDA for 11 years including Smart Grid projects in Vietnam.
Through this cooperation, GVI not only assists Dong Ha City in receiving the grand aids for researching and deploying components that create a premise to orient the architecture of smart city development in the long term, but also supports the development of international cooperation relations between Vietnamese authorities, businesses and US enterprises. Hopefully, GVI and Dong Ha City will continue to have good cooperation with USTDA and other international organizations in the future.